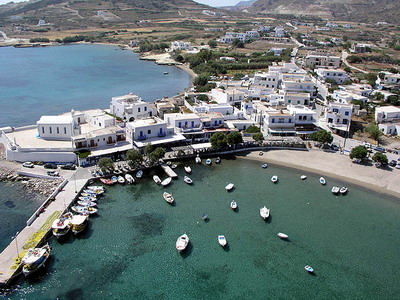 Pollonia or Apollonia is a picturesque fishing village of 300 inhabitants, built around a beautiful bay at the northeastern tip of Milos.
Pollonia is the second port of Milos after Adamas, and they probably took their name from the Temple of Apollo that existed in the Lighthouse of Pelekouda (western settlement). They are almost 10 km away from Adamas and 14 from Plaka, and from there there is communication with Psathi, the port of neighboring Kimolos. Small boats, sea taxis and Ferry-Boat take you up to 30 minutes from Pollonia in Kimolos.
This settlement has a beach with rich sandy beaches, many rooms to let and hotels, as well as several taverns, restaurants and island cafes that stretch to the east of the settlement, the church of Ag. Friday. Finally, on the way to Pollonia you will meet the ruins of the ancient city of Filakopi.
Lastly, there are processes to make Pollonia port upgraded.
At the central pier, local fishing boats and smaller amateur recreation are docked. On the eastern side of the central pier and in the summer months (April-October), seasonal floating platforms with mooring of about 18 vessels, up to 15 meters long, are placed. these floating platforms serve the visitors of the settlement during the summer.
At the pier of Pollonia port there is also the possibility of supplying water and electricity to docked boats from pilar machines with a card.
As part of the effort to improve the area in general to attract more visitors, the Milos Municipal Port Facility has already commissioned a designer to study the construction of a tourist boat shelter at Pollonion bay.